Whether your company is doing a trade show or a roadshow, Infinite Massage is a great way to get your brand message across. We offer numerous ways to capture those brief moments of time where you can impress someone with your offering. Chair Massage along with our other offerings, always do the trick.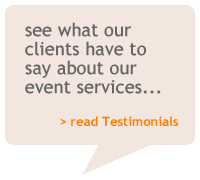 Infinite Massage can help you draw traffic to your booth with the irresistible offer of a Chair Massage. It's a great way to create a buzz around your brand. And while your customers are having a relaxing memorable experience, they're also receiving your key marketing messages via our patent-pending AuRE™ (Audio Relaxation Environment), which provides professionally produced sound that soothes the mind as it sells your brand. We incorporate your branded message – recorded by a professional voice. That's right, we work with professional voices to record your message and deliver it in a way that is sure to get their attention.
Want more? We can also get your message across with free branded foot massagers, other branded massage tools, custom t-shirts (massage therapists can wear your corporate logo, colors, etc.). Yoga, mini-manicures and more are available as well. Got something specific in mind? Ask!
Perhaps you're doing nontraditional marketing such as pop-up (temporary) storefronts. Infinite Massagecan set up on the sidewalk, roof, storefront, hotel suite or wherever we can help you attract customers. It's a surefire way to make sure your marketing gets you the notice you need. When there is a chair massage therapist around, and they are offering, there will always be a line of takers.
Is your marketing event one of a series you're staging across the country? Let Infinite Massage join you from sea to shining sea. We have a network of certified Massage Therapists and On-Site Spa service providers in every major urban area, so your customers with feel right at home with us, wherever they are. We can attend events such as golf outings, corporate meetings, marketing tours, festivals, carnivals, or anywhere you can fit in Mobile Massage.
Chair Massage is part of wellness, and wellness is a way of life. Let Infinite Massage help your business reach out and touch customers and stand out from the crowd.